Hakone`s Famous Local Craft
Yosegi Zaiku is the intricate local woodcraft native to the Hakone Mountains. The geometric wooden designs, history, and craftsmanship are registered as one of the most important local crafts in all of Japan. The center for this amazing traditional craft is in Hatajuku, a short bus ride up from Hotel Okada on the way to Lake Ashi, and the wooden crafts can be found throughout the Hakone area.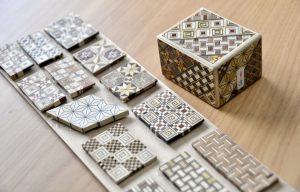 Photo Credit: All About Japan
Hakone was the ideal place for such a craft to take root, grow, and evolve. Among the mountains are an extensive selection of different wood types and colors. Hakone Zaiku does not use any artificial dyes, but rather uses each individual wood depending on its color and characteristics.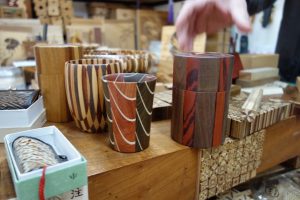 Photo Credit: Generations of Craft
At first, it may be difficult to appreciate the uniqueness of this craft at first sight. The final products are intricate geometric patterns made from combining woods of different textures, shapes, and colors. The impressive formed wood blocks are thinly sliced for use as decoration, carved into items, or layered on top of other objects.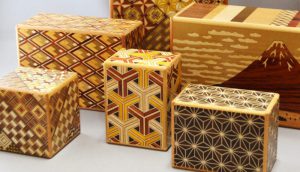 Photo Credit: Hakone Tourism Board
Getting to Hatajuku is very easy from the bus stop located behind the hotel. Get off at Hatajuku and find one of the many shops displaying the local craft. While in Hatajuku you will also be able to experience and see the making of this craft by one of the few "master" that are still practicing their art.
Small groups of visitors are welcome to visit places like Maruyama in Hatajuku to sit with a craftsman and see the detailed work and passion.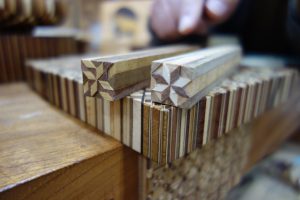 Photo Credit: Generations of Craft
Take to time to watch and learn about the craft from the friendly and proud group of craftsmen still left. The number of people considered master craftsman has dripped in recent decades, but there is a growing number of young artisans learning the perfecting the craft to pass on to the next generation. Recently the craft has been adapted to some modern uses, like smartphone covers, business card cases, and interesting puzzles.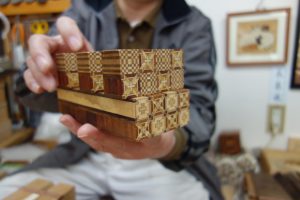 Photo Credit: Generations of Craft
The puzzles are amazing examples of ingenuity and craftsmanship. The skills and imagination in making these wonderful crafts are amazing. The popularity has grown and was featured in the recent Tomb Raider movie as a key puzzle that Lara Craft had to solve.
Hakone is a place where you can experience the nature, people, and workmanship of the Japanese. We invite you to explore and discover this wonderful local treasure.